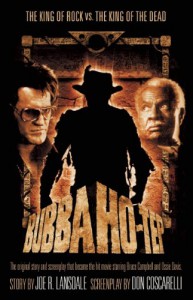 Don't comment here, go to Hunger For Knowledge's page! (And good luck!)-Char
I am doing a quick giveway with Bubba Ho-Tep (Kindle version) to celebrate New Year and to say Goodbye to low taxes in EU countries e-book heaven. This giveway ends tonight at 10 pm (Finnish time, which is in 7 hours from now).
5 fastest and lucky personas will receive this awesome read, which is also an amazing movie. If you want to enter, let me know in the comment section and I will ask your Amazon account email through BL messages (and I need the information before 10 pm my time because you know, no low taxes tomorrow, no e-books).