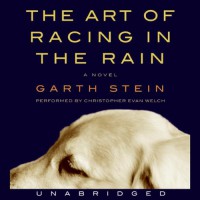 This novel was as close to perfect as they come.
I saw this book going through everyone's feed a year or so back and naturally, my inner rebel came out and I refused to read it. A few weeks back when I was browsing the available audio books at my local library, I saw this and put a hold on it. Even I can't be a rebel forever. It came in at the end of last week and I finally read, (listened to), the damned thing.
I just finished one of the biggest crying jags a book has ever caused me. I loved this dog, Enzo. I loved him because he was a good boy. I loved him because he loved and protected his owner so much. I loved him because he is a race fan like me. I just loved him.
This is an excellent story about the love of a good dog and the heartbreaks of a close family. It was realistic and extremely well written. I imagine it's pretty difficult to pull off writing a book from the dog's point of view, but Mr. Stein made it look easy.
Regarding the narrator, Christopher Evan Welch, he was just wonderful. I never doubted that he was Enzo. I liked his performance in this so much, I looked him up. Which caused another, albeit slight, crying jag because the guy died at age 48. I recognized his face and some of the roles he's played too. RIP Mr. Welch.
Overall, I loved this story and all of its twists and turns. I loved the characters-both human and canine. I loved the wonderful narration. And in some twisted way, I loved crying my eyes out, too. I can't say enough good things about this beautiful, imaginative story.
Highly recommend, but bring a box of Kleenex, just in case!