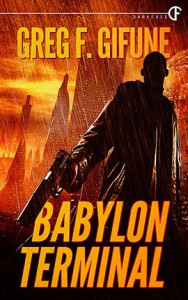 Babylon Terminal is like an acid trip with Blade Runner running in the background. Even though there's no direct science fiction in this book, it felt like a sci-fi read and because there are "runners" my mind automatically goes to Blade Runner, but there is no real similarity between the two.
Monk is a Dreamcatcher-those whose job it is to track down runners. Runners from what and to what- that's where all the questions begin, and that IS a beginning. Are runners those who are bold enough to dream? Or are runners only those bold enough to chase those dreams? Monk is a resident of a dark city. Is there any sunlight? Why or why not? Does the dreamscape Monk travels through in pursuit of Julia, (a runner AND his wife), really exist? And the people and things he meets there, are they real? You'll have to read this and find out, (interpret?), for yourself.
I won't lie and say that I have a complete and total understanding of this story. I will say that I enjoyed the hell out of it and that's because Greg Gifune is a master of language and imagery. There are scenes in this book that I think may be with me for a long time because they were so vividly depicted. The children. The ice palace. The man in the chair. The ocean.
This book is not going to work for everyone. It requires an imagination, an open mind and the ability and willingness of the reader to give up the reins and be lead. If this sounds intriguing to you, drop those reins and let Mr. Gifune lead you to Babylon Terminal. It's the end of the road. Or is it?
Recommended to fans of Greg Gifune and to fans of ambiguous fiction.
*Thank you to Net Galley and Darkfuse for the opportunity to honestly review this e-ARC.*
20 Books of Summer: Book 1