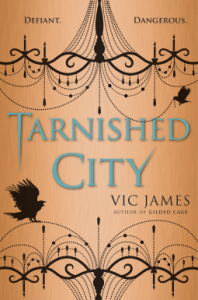 TARNISHED CITY is an amazing follow-up to last year's GILDED CAGE. In fact, I think I liked this one just a little bit more!
Even though I see this listed and shelved as YA, it's much darker than most YA I've tried, (which admittedly is not a lot because it's usually too angst-y for me.) In this case however, the author nixes a lot of the extraneous stuff and focuses on the characters and the intricately plotted story.
It took me a little while to get back into the flow, (it's been just over a year since I've visited this world), but once I did, I was so happy to be there! There's no real re-cap, which I appreciated. I feel that if an author's characters are strong enough, they should come back without my having to be reminded and these certainly did. There's a large cast here and the characters refer to other characters using the names by which they know them-sometimes resulting in 2 or 3 different names for a person, depending upon the point of view at the time.
I noted that a lot of what is going on in this book is going on in the real world right now. Perhaps not slavery exactly, (those with no Skill must serve 10 years as a slave), but classism, (against those born with no Skill), and the increasingly outspoken attitudes and acceptance of those with racist views. It comes all the way up to the sanction of violence against those who disagree or who dare to stand up against those in power. I guess I'm trying to say that it's obvious to me that the author knows what she's talking about as far as how the story relates to the world today, and it's downright scary.
I feel like I needed to make these points, but now that I have, I want to say how much I loved this tale! I loved the characters, they're well drawn and oh, so human. They aren't perfect, in fact, many of them are downright horrible people, but they're fun to read about. The machinations and the conniving going on rival that in any adult fantasy that I've read-with the added bonus of not having to wait 5+ years for the next book.
I say BRAVO, Vic James! You've created a compelling, fun and interesting world, populated with deep, complicated characters and I can't wait to come back to it once again. Highly recommended!
*Thanks to the publisher and to NetGalley for the e-ARC of this book, in exchange for my honest feedback. This is it!*