SPRINGFIELD CONFIDENTIAL is chock full of exactly what every Simpson fan would want-behind the scenes information, (so to speak, it's a cartoon), a little background on the main writer and all the others, a bit of name dropping, (and maybe a little dirt?), on the hundreds of guest stars, and finally, the stories about how certain jokes came about. It's a quick, breezy, informative and fun book.
Mike Reiss has been writing for The Simpsons from almost day one. He and everyone else on the show never thought it would last, but here we are right now, with The Simpsons being the longest running primetime scripted series to ever run in the history of television. With that many years under his belt, you can bet Mike has a lot of information for the die-hard fans and the causal fans alike. Things like the fact that one episode of the show takes 9 months from the idea to the airing. The show is written here in the U.S., but it's animated in South Korea. (Who knew?) There's some celebrity mentions as well, but I'll leave those nuggets for those of you who are interested enough to check out the book.
Remember when Michael Jackson was on?
Being from Springfield, (MA, which is NOT the home of The Simpsons show, darn it!), I've been a fan of the show since it had a short spot on The Tracey Ullman Show, back in the day. Boy, has it improved since then! I believe that I've always been smart enough to realize that I don't get all of the jokes in every episode, (Mike Reiss reads Voltaire, for heaven's sakes, I do NOT). But I do think I'm smart enough to get most of them, and that's why I've stuck with the show for all these years. If you want to know how Homer got his name or how Krusty's dad became Rabbi Krufstofski, you'll have to read this book!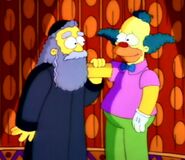 Highly recommended for serious fans of the show, and for the casual fan that wants to know more!
*Thanks to Edelweiss and the publisher for the e-ARC of this book in exchange for my honest opinion. This is it.*