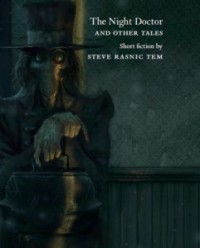 THE NIGHT DOCTOR AND OTHER TALES is a collection of the dark and the weird from one of my all time favorite authors. It's terrific!
Grief and loss play a big part in these stories, as big a part as they play in real life. Sometimes there's also an eerie side to the tales here, but there are few outright scares. The predominant feeling I came away with can be stated in one word: Unsettling.
I can't review each story because there are a lot of them, but the ones that really stuck with me are:
BREATHING: The word unsettling describes this perfectly. Breathing is something you don't notice until it's gone. I could feel this man's grief in my very bones.
RED RABBIT is one of my favorite Tem stories of all time and I relish every re-read. It's just so damn disturbing.
DOMESTIC MAGIC: And I thought my mom was a witch!
THE MAN IN THE ROSE BUSHES: For whatever reason, this one reminded me of Robert Aickman-it was weird.
STICK MEN: I thought about this story all day. It creeped me out and that's not easily done.
BETWEEN THE PILINGS made me think of a conversation I recently had with my husband about a vacation we took years ago. We talked about what it would be like at that place now. This is a story about just that-going back. Or maybe it's about moving on and letting go? You make the call. There was a palpable almost suffocating atmosphere here-between that and the name of the town, I felt a faint Lovecraftian vibe.
THE WEIGHT LOST: No, that's not a typo, but it IS a weird, weird tale that left me feeling...off balance.
I could go on and on about this book, the nature of all the stories and how much a fan I am of Steve Rasnic Tem's work. In fact, I briefly will! Back in my early teens, Tem's name in an anthology meant I was checking that sucker out of the library as fast as any superhero could move. To me, his name meant that I would be guaranteed relief from the boredom of a long summer day. In that way, his name has been in the background for almost my entire life. He's like the soundtrack to my life, but in written form.
His tales have always featured variety, unease and sometimes outright horror. They're entertaining and they make you think. You can take away from them all kinds of things to ponder, and sometimes they just haunt your mind for years. (CITY FISHING, I'm looking at you.) What they have never done is bore me, and for that I am grateful.
This is yet another excellent collection from the outstanding, literary mind of Steve Rasnic Tem. Let him invite you - entice you, even -but don't expect to get too comfortable settling in, because the specialty here is exactly the opposite: UNSETTLING!
My highest recommendation-especially to fans of the weird tales!
Available in October from Centipede Press!
*I was offered a paperback ARC of this collection by the author himself, in exchange for my honest review. This is it. (And, I was honored to have been asked.)