One word: SASQUATCH. I'm in!!
When a small group of environmentally conscious folk move into a "smart-community" (named Greenloop), in the Pacific northwest, everything seems to be just perfect. They are off the grid, groceries are flown in via drone, and they are self sufficient...until nearby Mount Rainier erupts. All of a sudden it becomes painfully clear that they are not capable of surviving very long without internet access, (can't order up those grocery drones now), and with the roads wiped out by lahars, there's no escape. Then, they start noticing noises from the woods and as all the local wildlife begins to run, they run into something deadly. Will our plucky group escape from Greenloop with their lives? Or will they stay and try to defend the lives they've built? You'll have to read this to find out!
The after-effects of a lahar: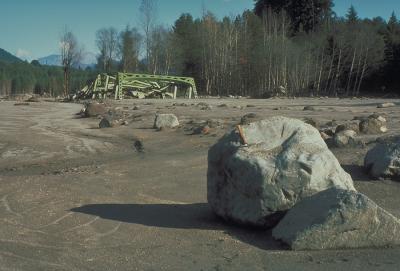 I ended up loving characters that I nearly hated at first. Katie? I'm looking at you, girl! As the tale continues we learn more about each of the people living at Greenloop. Many of the important things about them aren't disclosed until much later in the book. My Google-foo was strong though and I discovered a lot of those particulars early on and that gave more depth to the tale. This entire group of people changed throughout, some in good ways, others not so much.
I thought that for a bigfoot story this tale was mostly realistic, though there were portions where I had a hard time suspending my disbelief. I cant say more about that without spoilers, but let's face it. This is a story about sasquatches, there's only so much realism there can be. And even though we're talking about somewhat of a creature feature here, the real focus is on the characters and not the cryptids. In that respect, it's not a creature feature at all, it's about the people.
DEVOLUTION is a quick read, fast paced and a lot of fun. There were gory scenes, lots of action and unexpected events popping up all over the place. It kept my attention, kept the pages turning and took my mind off this pandemic for a while. For these reasons I recommend it!
Available everywhere June 16th, but you can pre-order here: DEVOLUTION
*Thanks to the publisher and NetGalley for the e-ARC of this book in exchange for my honest feedback. This is it!*